Sunrise Tee Pee
texas, united states
bbq grill

bedding

canoe

cookware / dinnerware / cutlery

kitchenette

life vest

patio / deck

running water

shower

towels
bird watching

fishing

hiking

kayaking

photography

swimming

wildlife observing
Self-catering
Nearby restaurants
Check-in

10:00 AM

Check-out

12:00 PM

Taxes

Included

Gift Cards

Not available at this property

Included in the Rates

Bed, linens, sofa, small kitchen, ice chest, silverware, cooking utensils, a pot and a skillet, plates, cups, glasses, and a 4-cup coffee maker with coffee and filters, 2 space heaters, 2 fans, and a propane grill with a burner

Gratuity

Not included, but appreciated.

Other Fees

None

Parking

Included on-site

Minimum Age for Children

3

Additional Guests

No additional charge for guests up to maximum occupancy.

Suggested items to bring with you

Food, drinks & any personal necessities

Reservation and Cancellation Policy

All canceled reservations received 6 or more days prior to arrival are subject to a 10% cancellation penalty.

Reservations canceled within 5 days of the scheduled arrival date are subject to a penalty equal to the cost of 1 night's stay.

Pet Policy

Pets are not allowed at this property
How Do I Get There?
The property is located 10 miles east of Marble Falls, Texas – just an hour drive from Austin, Texas. It is a short and steep in places hike to get to the teepee.
View Google Maps
This unique & amazing place is good for couples and solo adventurers. You'll take a hike down the hill to the authentic American Indian Tee Pee. Although short, the hike is on a rough and steep terrain, and does have some steps on the steepest areas. Be sure to wear some good hiking shoes and be aware that you should be fairly fit to traverse it several times during your stay.
You will need to carry your gear in down the hill. It's like backpacking with the comfort of a bed and bathroom.
This authentic American Indian constructed TeePee is on the same property as the owner's home and they will be on the property most of the time for you, if any needs arise. The TeePee is not visible from the house and the house is not visible from the TeePee. This is a peaceful and very quiet area, so the hosts ask that you do not have loud music, as the sound carries around.
This neighborhood is sparsely populated, quiet and peaceful. You will be just above the lake in the tipi. You can fish, use the one-man kayak and canoe, or just simply relax in a most unique area. You most likely will hear the deer at night and possibly other animals.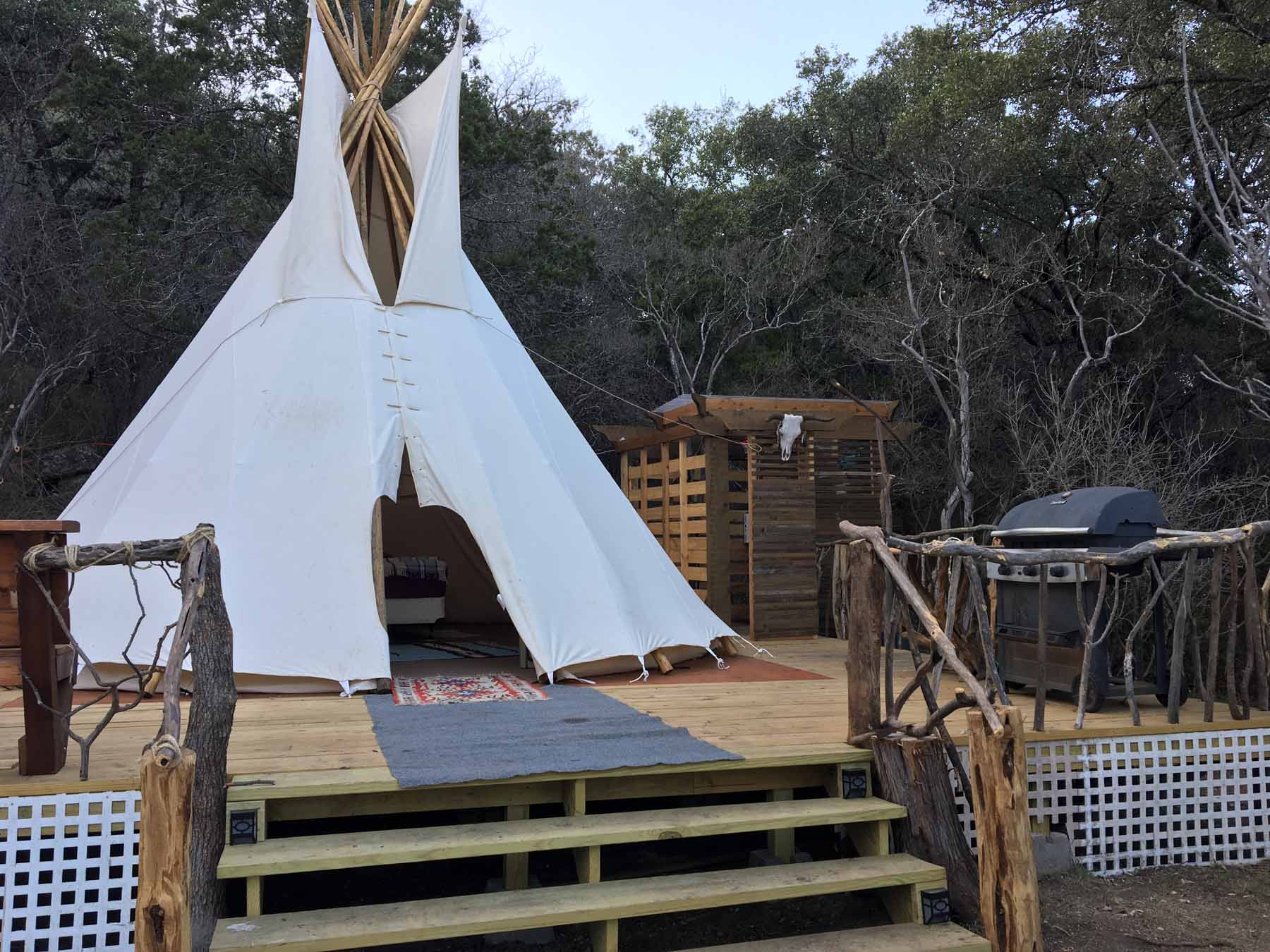 Accommodations
Sunrise Tee Pee

From $129/night
Inside Scoop
Suggested items to be brought by guest: please bring food and personal items.