Tiger Tops Karnali Lodge
bardia national park, nepal
bar / lounge

ceiling fan

fireplace

free parking

hammock

lounge areas

mosquito nets

organic garden / farm

restaurant
all-inclusive

animal interaction

bird watching

canoeing

excursions

game drives

guided tours

hiking

wildlife observing
Check-in

10:00 AM

Check-out

12:00 PM

Taxes

10% service charge and 13% VAT included

Gift Cards

Not available at this property.

Included in the Rates

Accommodation, all meals and all activities.

Gratuity

Not included, but appreciated.

Other Fees

$20 National Park Entrance Fee per person per day, $25 One-Way Airport Transfer per person

Parking

Included on-site.

Cellular Signal

Limited

Wi-Fi Signal

Strong

Minimum Age for Children

4

Additional Guests

Rates based on per person, up to maximum occupancy.

Suggested items to bring with you

Long trousers and a long-sleeved t-shirt, a warm fleece, t-shirts, a pair of good walking boots and/or trainers, sandals or flip flops, a shawl for the evenings, a sun hat, a head torch, and mosquito repellent and sun screen.

Reservation and Cancellation Policy

Arrangements may be cancelled at any time but the cancellation should be communicated to the property in writing. Since cancellation incurs administrative costs, the property will retain any deposit paid and in addition will apply cancellation charges as follows. The property strongly advise that you have insurance cover against cancellation.

Period before departure within which written cancellation is received, and sum of cancellation charge shown as a percentage of the package price:

More than 60 days: Deposit only

31-60 days: 50%

15-30 days: 75%

Less than 15 days: 100%

Pet Policy

Pets are not allowed at this property.
How Do I Get There?
The property would highly recommend flying to Tiger Tops Karnali Lodge from Kathmandu due to its remote location. However, it is possible to drive, but they would recommend an overnight stay along the way.
By flight: Approximately 45 minutes flying time from Kathmandu takes you to Nepalgunj airport. Here you will meet with the staff from the Lodge, who will drive you for two hours to Bardia National Park where the Lodge is situated.
By road: Tiger Tops Karnali Lodge is approximately 500km west from Kathmandu and can be reached by road in 20 hours from Kathmandu or Pokhara (it may take longer depending on traffic).
View Google Maps
Tiger Tops Karnali Lodge is located on the periphery of Bardia National Park in the far western part of Nepal. An area of extraordinary beauty and abundant wildlife, a visit to Karnali Lodge is a journey of adventure and an opportunity to reconnect with nature.
Karnali is an intimate lodge with ultrapersonal service and expert guiding. It offers a calming, soothing retreat with a focus on fresh, organic produce. The lodge is simple yet comfortable, in keeping with the local environment, to make you feel as close to the local culture as possible.
The naturalists' knowledge and expertise on the flora and fauna of the National Park is Tiger Top's strong suite.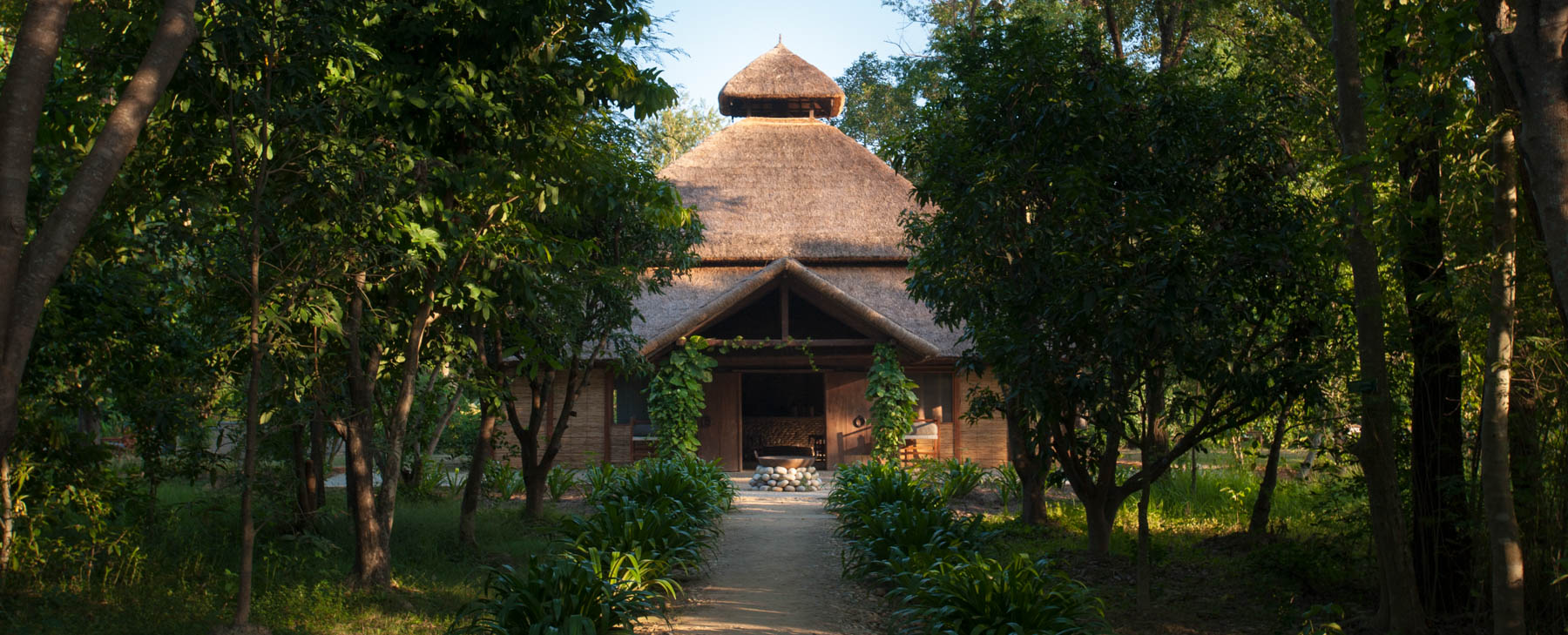 Accommodations
Karnali Lodge Rooms

From $350/ night
Inside Scoop
Since its establishment in 1964, Tiger Tops has demonstrated a commitment to sustainable travel and responsible tourism.

Bardia National Park

Karnali Lodge lies on the periphery of Bardia National Park, the largest and most preserved wilderness area of Nepal, home to a plethora of unique jungle animals.