Obonjan Island Resort
zlarin, croatia
air conditioning

bedding

hair dryer

housekeeping

lanterns

mini fridge

phone charging station

safe - in room

towels

wi-fi
excursions

paddle boarding

sailing

scuba diving

snorkeling
Minimum Age for Children

Adults only property.

Reservation and Cancellation Policy

Cancellation: 30% Deposit payment upon booking, cancellation 30 days before arrival (deposit non refundable),

Check in 3pm, Check out 11am.

Minimum age of children: This is an adult only property. Please make other arrangements for your children if you wish to stay at Obonjan Island Resort.
As you sail across the Adriatic from Šibenik, Obonjan sneaks up and surprises like a James Bond hideaway. Tucked among a cluster of outcrops and bedecked with pine and olive trees, it's just 6km from the mainland and a short journey from both Split and Zadar. They've been expecting you...
Obonjan island is all the things you love in one place. It's a mixture of DJs and live music, tempting food and drink, wellbeing and recovery, comedy, cinema, talks and workshops, art and installations, sports, and boutique retail. If all of this stimulation gets too much, islanders can always dive into crystal blue waters, take a snooze beneath the pines or hideaway to watch the sunset. With secretive coves to explore and winding paths that lead to tranquil, sun-kissed clearings, the island has a distinctly easy-going atmosphere.
Obonjan Island is centrally located within Croatia, near to major tourist attractions, with easy access to key airports and destinations. Located six kilometres offshore from the Croatian city of Šibenik, the destination is both tranquil and accessible.
Living on an island doesn't have to mean roughing it; this isn't Robinson Crusoe (though it's fine if you're into that kind of thing). So which shall it be? Forest Lodges with en–suites or Bell Tents with shared bathrooms, each are super comfy and both have proper beds! Plus, plugs to charge up your electric life and air conditioning comes as standard (there's great Wi-Fi on the island too!). This adults only resort is the idea glamping getaway.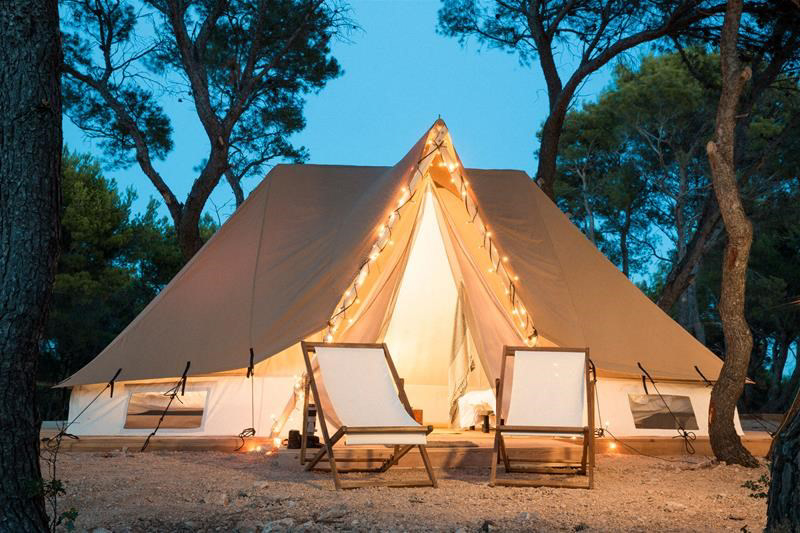 Inside Scoop
Don't forget your sunscreen and favorite hat!

THE AMPHITHEATRE

A spectacular and intimate venue for live music performances, talks and presentations, theatre productions, and other entertainment events. Audiences watch and listen under star-filled skies or in the sunshine, with views beyond the stage stretching out into the Adriatic Sea. The venue can cater for audiences numbering in excess of 1000 and has a dedicated backstage area, full sound and light production resources.