Whitepod
valais, switzerland
bar / lounge

kettle

patio / deck

restaurant

running water

shuttle service

stove

wi-fi
badminton

biking

hiking

lifesize chess

table tennis
Reservation and Cancellation Policy

Information available upon request
How Do I Get There?
Where is Whitepod located?
In Switzerland, in the canton of Valais, in the village of Les Cerniers, at the foot of the Dents-du-Midi mountain range—the beginning of the Swiss Alps. Whitepod is a 45-minute drive from Montreux or 1 hour and 30 minutes from the Geneva airport.
It faces the renowned ski resort Villars and stands above the city of Monthey.
By car
Highway A9, exit n° 19 Bex – Lavey. Drive in the direction of Monthey. Arriving at the roundabout at entrance of Monthey, follow Choëx. Drive up, up, up—follow Les Giettes, Les Cerniers. The chalet Les Cerniers will be on your right when you arrive. Parking is right in front of the chalet Les Cerniers.
By public transport
The nearest airport is Geneva (GVA). There is a train station directly inside the airport. The closest train station to Whitepod is Monthey. The interregional train takes you to Aigle, then a regional train goes from Aigle to Monthey. Timetables and prices can found on www.cff.ch.
From Monthey train station (CFF), the bus n° 63 goes all the way up to Les Cerniers. We are located at the final stop «Les Cerniers Restaurant». The bus ride up takes approximately 45 minutes (bus n° 63).
TAXI PICK UP OPTIONS (prices per trip, not per person)
Pick up from Geneva airport, CHF 450
Pick up from Aigle train station, CHF 115
Pick up from Monthey train station, CHF 60

At what altitude is Whitepod?
Chalet Les Cerniers is at 1250 m. The pods and the Pod-house are at 1400 m.
View Google Maps
Whitepod offers a novel approach to glamping in Switzerland and exploring the Alps, with 15 domes pitched on wooden platforms. Each pod is protected from the cold and snow, equipped with a wood-burning stove, organic luxury bedding and full-service bathroom. Whitepod is Switzerland glamping at its finest.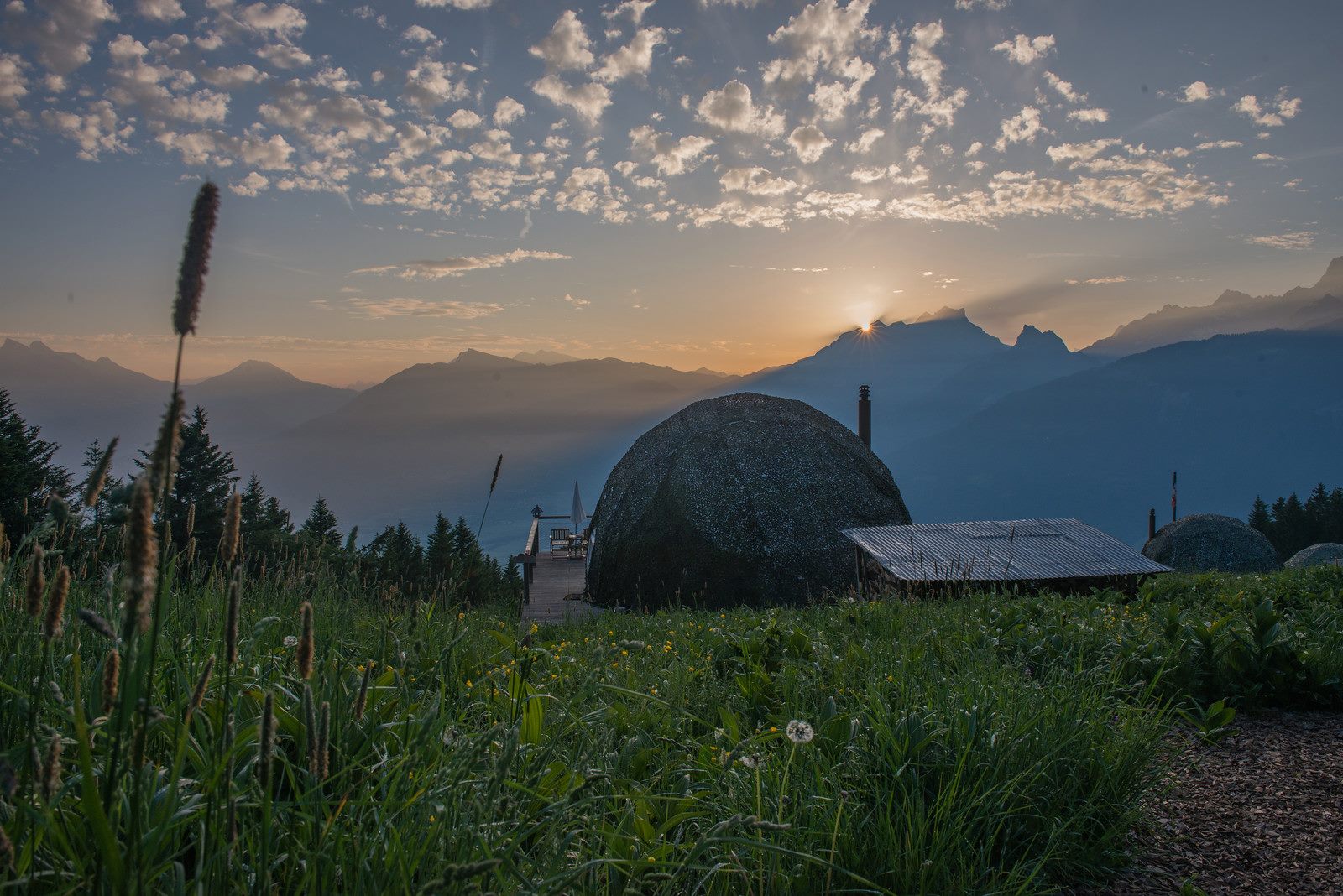 Inside Scoop
Plenty of on-site and nearby activities for all ages