GlampinMadeira
madeira, portugal
airport transfers

bedding

bedside lighting

cookware / dinnerware / cutlery

first-aid kit

flashlights
bird watching

canyoning

hiking

mountain biking

nature walks

off-road vehicle tours

stargazing
Check-in

2:00 PM

Check-out

12:00 PM

Taxes

8%, not included

Gift Cards

Not available at this property

Included in the Rates

Accommodation

Gratuity

Not required, but appreciated.

Other Fees

Cleaning Fee: $20/ stay

Parking

Included on-site

Cellular Signal

Limited

Wi-Fi Signal

None

Minimum Age for Children

6

Additional Guests

No additional charge

Suggested items to bring with you

Personal items, appropriate clothing for the outdoors.

Reservation and Cancellation Policy

Cancellation by the client:

The client can cancel the reservation without any cost, up to a maximum of 10 (ten) days before the date of reservation. After 10 days they will be charged the full amount of the first day of rental.

Cancellation by Glamp in Madeira:

Their main focus is with the safety and comfort of customers and they are always on the lookout for adverse weather conditions to the practice of camping.
Based on the information they have, they can advise you at any time to change the location, the date of your reservation or even cancel your reservation. Please note, that they will only set the tent and the equipment up if they find that the minimum safety conditions are met, especially the climatic conditions.

They reserve the right to partially or totally cancel your reservation in the following cases:

1) Cases of force majeure;

2) Anomalous situations related to their equipment, which may compromise customer safety:

3) Adverse climatic conditions, real or based on forecasts or meteorological warnings issued by the Portuguese Institute of the Sea and Atmosphere, IP (IPMA, IP), that make impossible or significantly impair the assembly of the glamp and equipment in the periods and places chosen by the client.

If they have to cancel, partially or completely, your booking, they will refund the customer:

1) Of any and all amounts that have been delivered to date, if the cancellation concerns the entire reservation:

2) The amount corresponding to the rental period to which the cancellation refers.

Pet Policy

Pets are not allowed at this property.
How Do I Get There?
Located in Madeira Island, Portugal. Inquire for information relating to a location of your choice.
View Google Maps
Get to know Madeira from a different perspective! Explore the heart of the island and its charms, while we set a comfy retreat to complement your experiences.

You will be glamping in Madeira's Natural Park, in the Laurissilva Forest, a typical Macaronesian forest raised to world heritage by UNESCO in 1999.
The Laurissilva of Madeira is an outstanding relict of a previously widespread laurel forest type. It contains a unique suite of plants and animals, including endemic species such as the long-toed pigeon and the Madeiran chaffinch.
GlampinMaderia will provide you with high quality camping equipment and the whole assembly and disassembly process. You just have to choose the perfect location for your glamp and they'll handle all the logistics, easy as that!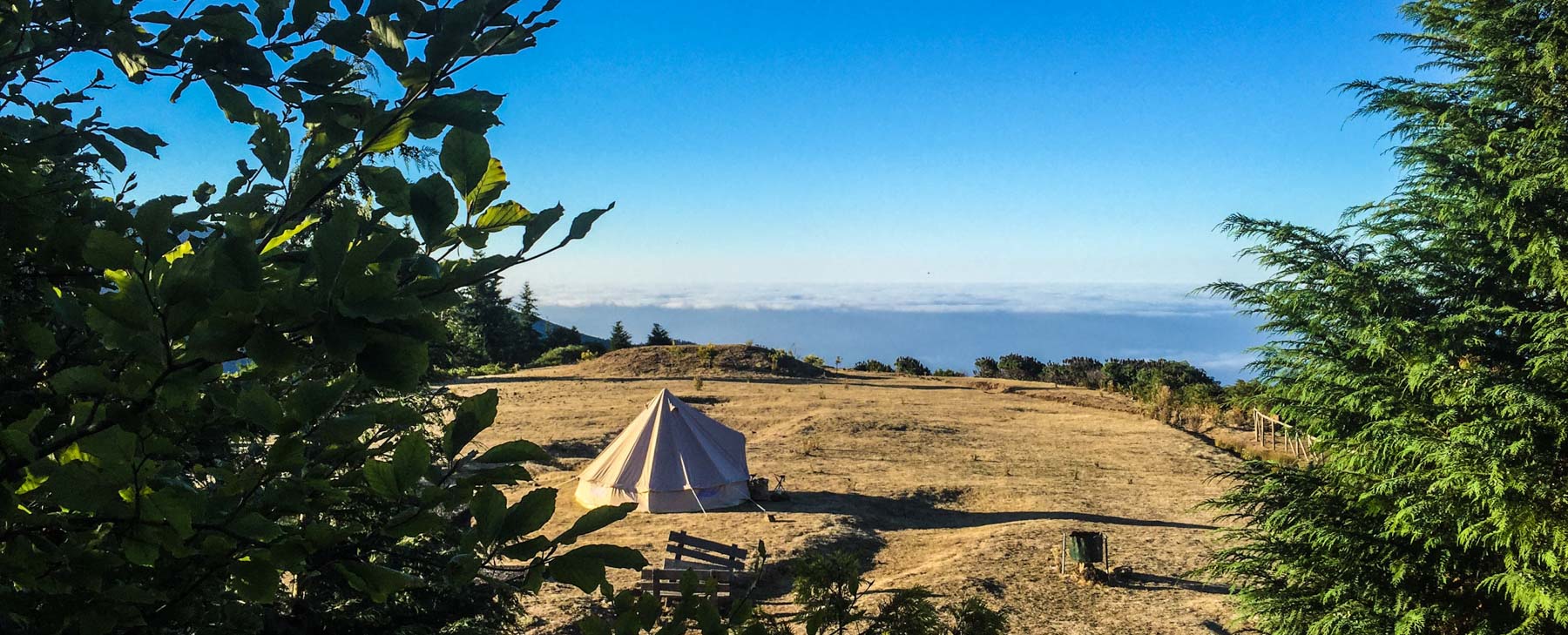 Accommodations
Deluxe package

From $119/night