Glamping Ribno Bled
gorenjska, slovenia
electricity - lights

electricity - outlets

fire pit / ring

heater

restaurant

tv
biking

climbing

fishing

golf

guided tours

hiking

park

rafting

skiing

swimming

tennis

volleyball

yoga
On-site restaurant
Nearby restaurants

Delivery available
Reservation and Cancellation Policy

Cancellation Policy:

For cancellation more than 30 days before arrival, there is no penalty.

14-29 days prior to the arrival: 30 % of services ordered.

7-13 days prior to the arrival: 60 % of services ordered.

6 days/day prior to the arrival: 100 % of services ordered.

Cancellation:Payment conditions:

credit card guarantee or 50% pre-payment upon reservation.

Supplements:

Tourist tax: 1.40 USD /per person/per night

Breakfast basket: 11 USD/per person (5,5 USD/per child)

Bathrobe: 3 USD

Daily/Dinner basket: price depends on the choice of dishes

Price for private reservation of Glamping Ribno Bled sauna: 1 hour: 22 USD / 2 hours: 39 USD / 3 hours: 50 USD

Extra services:

(food, drinks, massages, transfers, tours, etc.) will be charged to the bill of the house that has to be paid at the end of the stay.

Check-in: from 14:00 – 00:00

Check-out: till 11:00

Later check-out (if possible): Until 14:00: 22 USD / Until 16:00: 33 USD

Children: Yes

Pets: No
How Do I Get There?
Glamping Ribno Bled is situated 40 min from the national airport. Once you arrive in the center of Bled, turn left and follow the signs for Ribno and Hotel Ribno.
View Google Maps
6 cozy Slovenian houses are nested in a superb location, not far from the greatest Slovenian jewel, Lake Bled, and in the midst of a green spruce forest and blue Sava river.
Built under and in the trees, they are all made from Slovenian wood and by Slovenian craftsmen. Luxury is provided by a comfy interior, private wooden hot tub and bathroom, sauna, common area with fireplace and outdoor massage parlour with a spectacular view. Next door lies one of the prominent Slovenian hotels, Hotel Ribno, with a rich history, yet glamping guests enjoy complete privacy. Slovenian inspired dishes can appear on the guest's doorstep or can be enjoyed in the hotel restaurant. Guests of Glamping Ribno Bled can also partake in a variety of activities such as yoga, rafting, tennis, fishing, herbal and hiking tours.
With nature at heart and guest in mind, this fresh on the scene village of tiny houses is truly a quintessential Slovenian oasis.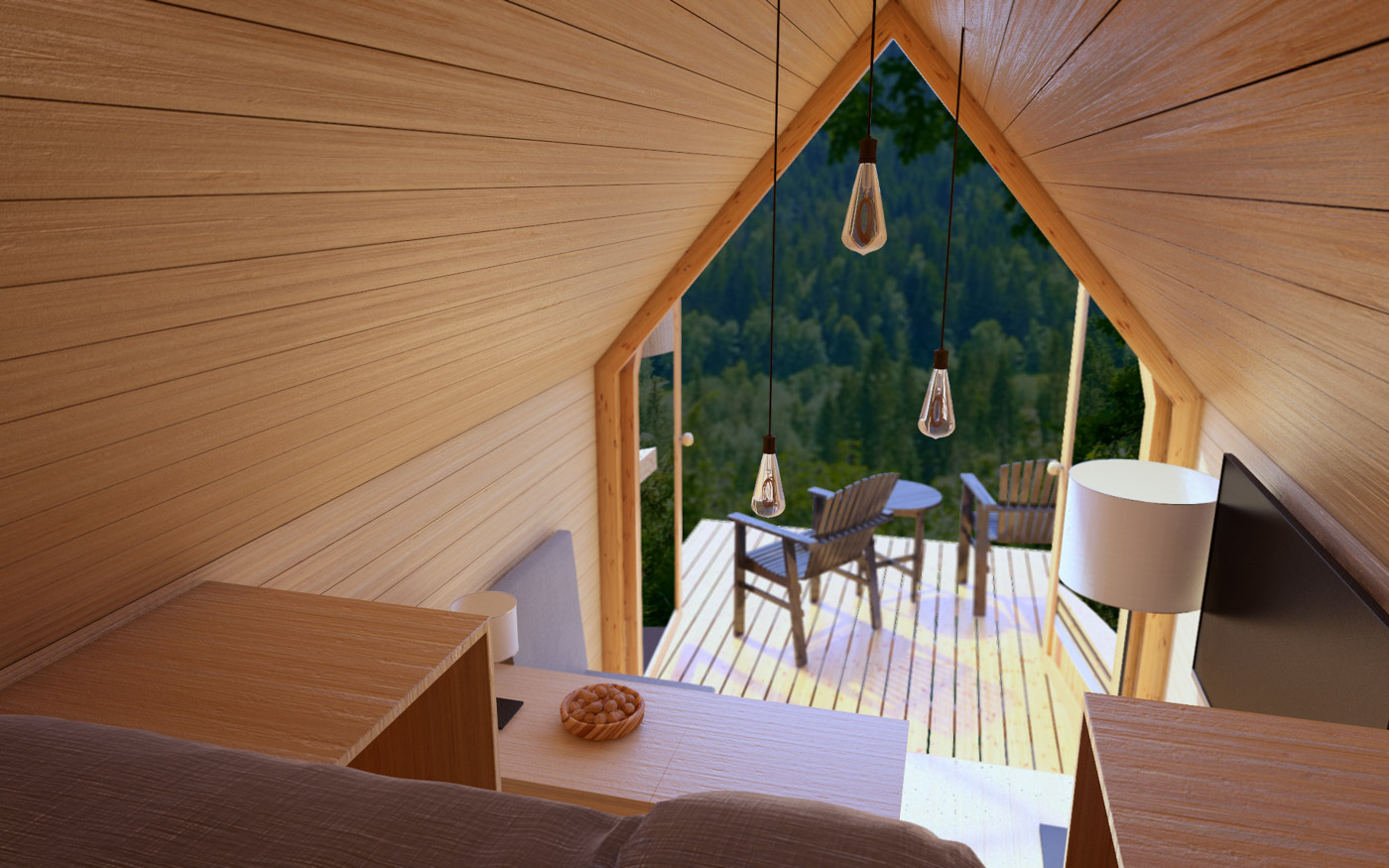 Inside Scoop
What to bring: cash, bug spray, sunscreen, sandals, hiking boots…

Rate includes:

Use of outdoor wooden hot tub.

Breakfast in the hotel restaurant, with the possibility of an upgrade for 10 Eur per person for Slovenian breakfast basket, brought to the house.

Room cleaning and change of towels every 2 days.

Free Wi-Fi access in the house.