Lapa's Nest Tree House
puntarenas, costa rica
bedding

books / library

caretaker

electric fans

front desk

housekeeping

lanterns

laundry

personal chef

security

towels

wi-fi
animal interaction

bird watching

guided tours

nature walks

swimming

wildlife observing
Private Chef (optional)
Self-catering
Nearby restaurants
Reservation and Cancellation Policy

Cancellation: Super strict - possibility to change dates depending on availability. Refunds are not offered on cancellations.

Reservations: All reservations require payment in full prior to arrival. For reservations made with more than 120 days before arrival, 50% deposit is required and balance due at 120 days (4 months before arrival). For reservations made with less than 120 days full payment is required at time of reservation. All short stay and specials require full payment regardless of how far in advance the reservation is made.

Gift your stay: With a fully paid reservation you can give the stay as a gift if the guests meet the min age requirement and pays the security deposit. Re-selling or subletting is not allowed.

Children: Over 5 years old.

Pets: Not allowed.

Gratuities: Appreciated for on-site security and caretakers.

You should bring: Beach towels, inoculars, sunscreen, bathing suit, bug spray, headlamps, flashlight, hiking/watershoes (semi-open, but closed toe shoes for kids/crocks).

Do not bring: Avoid bringing makeup and hair dryer or flat iron. PLEASE do not bring ANY plastic applicator tampons. Do not bring disposable baby diapers - bring cloth diapers ONLY. You will be asked to pack out dead batteries, plastic applicator tampons or disposable baby diapers since this is not trash that can be processed.

Money:


DO NOT bring Travellers Cheques- no one takes them.
IMPORTANT- Remember to call your credit card & bank before you depart if you intend to use those cards while on vacation. If you don't you will most likely get a block put on the cards while you are here! It happens often.
Some local establishments will charge you an additional 7% for using credit or debit cards because that is the fee they are charged.
All cash be can exchanged here on the Osa as you buy things.US dollars are accepted everywhere & you will get change in colons (the local currency) DO NOT bring any bills which have tears, holes, mangled, writing, etc You will not be able to use them here.

Passport: Make sure that your passport does not expire within 6 months of your departure. If it does, renew it before you leave- you will not be allowed into CR with a passport 6 months from expiration). Make 2 copies of your passport for all in your group- leave one at home & bring the other with you. Once you check in, carry your passport copy & leave your originals in the lock area of your vacation home.
How Do I Get There?
By plane: Puerto Jimenez Airport. The local airline which you will fly to Osa Peninsula (if flying to Osa) has a 30 lb weight limit for baggage- they charge you $1 per pound after that so PACK LIGHTLY! If you are driving down you can bring as much as you want but check the airline you use to fly to Costa Rica for weight limits -usually 50lbs per bag & 2 check ins are allowed, 1 carry on bag up to 40 lbs & one personal bag such as a laptop bag or purse (which can fit under the seat ahead of you). Check with your airline.
View Google Maps
If you were enthralled with the magic of the Swiss Family Robinson's treehouse and wish to create that same travel adventure and experience in Costa Rica, come stay at Lapa's Nest Tree House in southern Costa Rica's Osa Peninsula. They offer on-site 24 hour caretakers, on-site guide, laundry service, optional chef service, and all-inclusive packages.

The 6 story treehouse rental is just a few kilometers hike from Corcovado National Park, just north of Puerto Jimenez on The Osa Peninsula. In the morning, you go downstairs, pour yourself a cup of organic Costa Rican coffee, choose your favorite cushy sofa and sit back to watch the show. One by one, your new jungle friends greet you. First there are the howlers--then the toucans, scarlet macaws, hawks, falcons, and parrots until the air is filled with wildlife's jazz and dance. Everything is open air and you are a mere 10' from hundreds of titi monkeys swinging and munching their way through the forest. The intoxicating scent of Ylang Ylang (the flower from which Chanel #5 is made) surrounds you as you walk below the canopy with your camera.

Everybody loves and enjoys the tree house's fresh fruit from the organic farm, friendly staff, hiking and guided hikes through rain forest nearest Corcovado National Park. You can also see Ibus, Egrets and Blue Herons along the Agujas river estuary below, less than a 5 minute walk. There are secluded mangrove estuaries, zip lines, kayaking, Gulf exploration, surfing, Organic chocolate farms close by, accessible via the Osa's only paved road (paved road ends at Puerto Jimenez). You will hike, climb, meander down the river, swim the secret swimming pools, pick and eat furry exotic fruits. Just a few minutes away, you can swim with dolphins and enjoy fun eco tours with your family.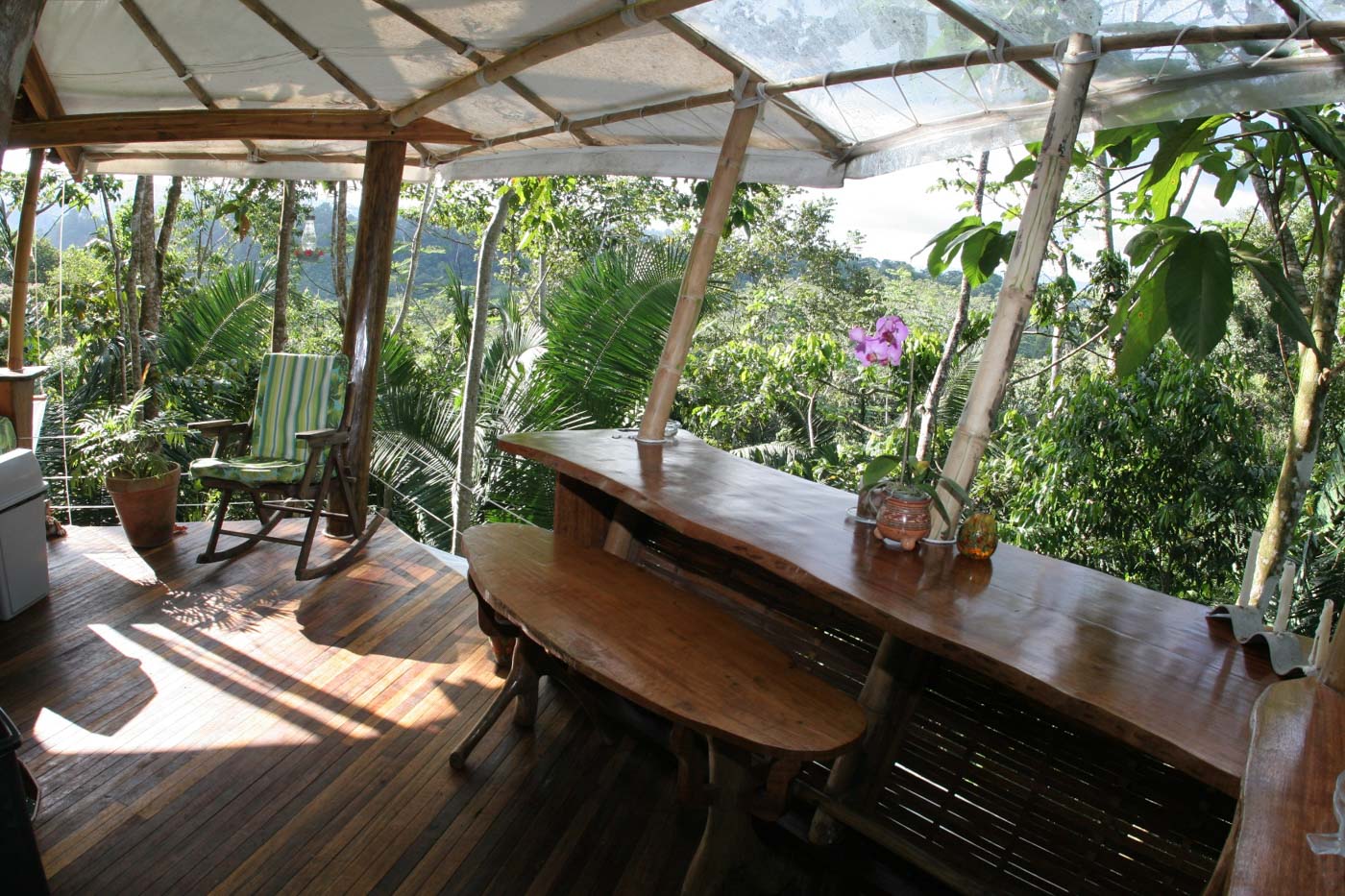 Accommodations
Lapa's Nest

$275.00/night
Request Availability
Something went wrong
Insider Tips
Most guests book 8-12 months in advance, so please do plan ahead.

Your wild family of monkeys should travel to Southern Costa Rica to meet their Congo and Whiteface Monkeys, also 100's of Mono Titi's (endangered squirrel monkeys in Costa Rica- but not here at the reserve) pass by while you enjoy wildlife including; Scarlet Macaws, toucans, trogons, parrots, falcons, owls and the occasional visit from a sloth or kinkajou.

Weekly Rental Rates – 2-6 guests sleep on 3 Queen beds (additional master bedroom with King bed is available at an extra cost if you have 8 guests) / 2 full bathrooms

• Low season / $1350 - $2050 wk.
• High season / $1850 - $ 2950 wk.
• Holidays / $3300 weekly up to 8 in all bedrooms including King master bedroom.
• Ask about 4 – 5 day rentals (offered sporadically as last minute specials to fill gaps between weekly rentals). Rates may change but once reserved rates are guaranteed