Ocho Artisan Bungalows
guanacaste, costa rica
air conditioning

airport transfers

babysitting

bar / lounge

bedding

ceiling fan

community pool

kitchenette

shower
animal interaction

biking

bird watching
Bring your own food
Kitchen inside
Nearby restaurants
Reservation and Cancellation Policy

CANCELLATION: Owner guarantees occupancy of the specified hotel and rental homes for the specified time period, and tenant guarantees payment for this specified period. Should tenant have to cancel for any reason, they will receive their money back only if they inform the owner of the cancellation at least 30 days in advance. There will be no refunds issued for cancellations 30 days or under before the date reserved. All cancellation requests should be done in writing as soon as possible and e-mailed to owner.
How Do I Get There?
When enter Tamarindo on the main road, you will pass by the Subway; follow this road. Then you come at a crosspoint. You have to turn left up to the hill where you see a big billboard for Budget Hotel in front of you. Once you are up the hill, you will pass some nice restaurants and down the hill right in front of you, you will find the 'Super 2001' supermarket. Follow this road, in the direction of Langosta. You will pass Mango Center on your left-hand side. A little bit further on the right-hand side—it's us.
View Google Maps
Ocho Artisan Bungalows is luxury defined, where beauty and comforts meet the rugged wilderness nature of the beach and the jungle experience. There is no doubt that you will love it!
The seven furnished and air conditioned bungalows, each with a fully equipped kitchen and en-suite bathroom, are individually located on the beautiful beach in the best location—in the center of Tamarindo, close to the restaurants, shops and supermarket.
The guests outdoor area has a large swimming pool.
"Ocho" is ecology at heart. Its green setting is tailor-made for nature lovers—a cozy stay in the lap of nature bringing nature into your own bungalow. A one of a kind, green stay you should not miss.
We offer more than just a perfect location and all the amenities of a luxury bungalow and top notch service. We host our guests ourselves and make every effort to ensure you enjoy every minute of your stay and make the most of your well-deserved holiday. Whether it is reserving a table at the finest restaurants, renting a car or booking one of the many exciting trips, tours and activities Guanacaste has to offer, we're happy to help. Just let us know! With surfing, kayaking, fishing, horseback riding, ATV tours and canopy/zip-line tours to name but a few, you will have plenty of opportunities for both relaxation and adventure. Our concierge service is designed to make your vacation truly tranquil and enviably enjoyable.
I'm sure you are seeking accommodations exactly like this. We would love to create the perfect holiday.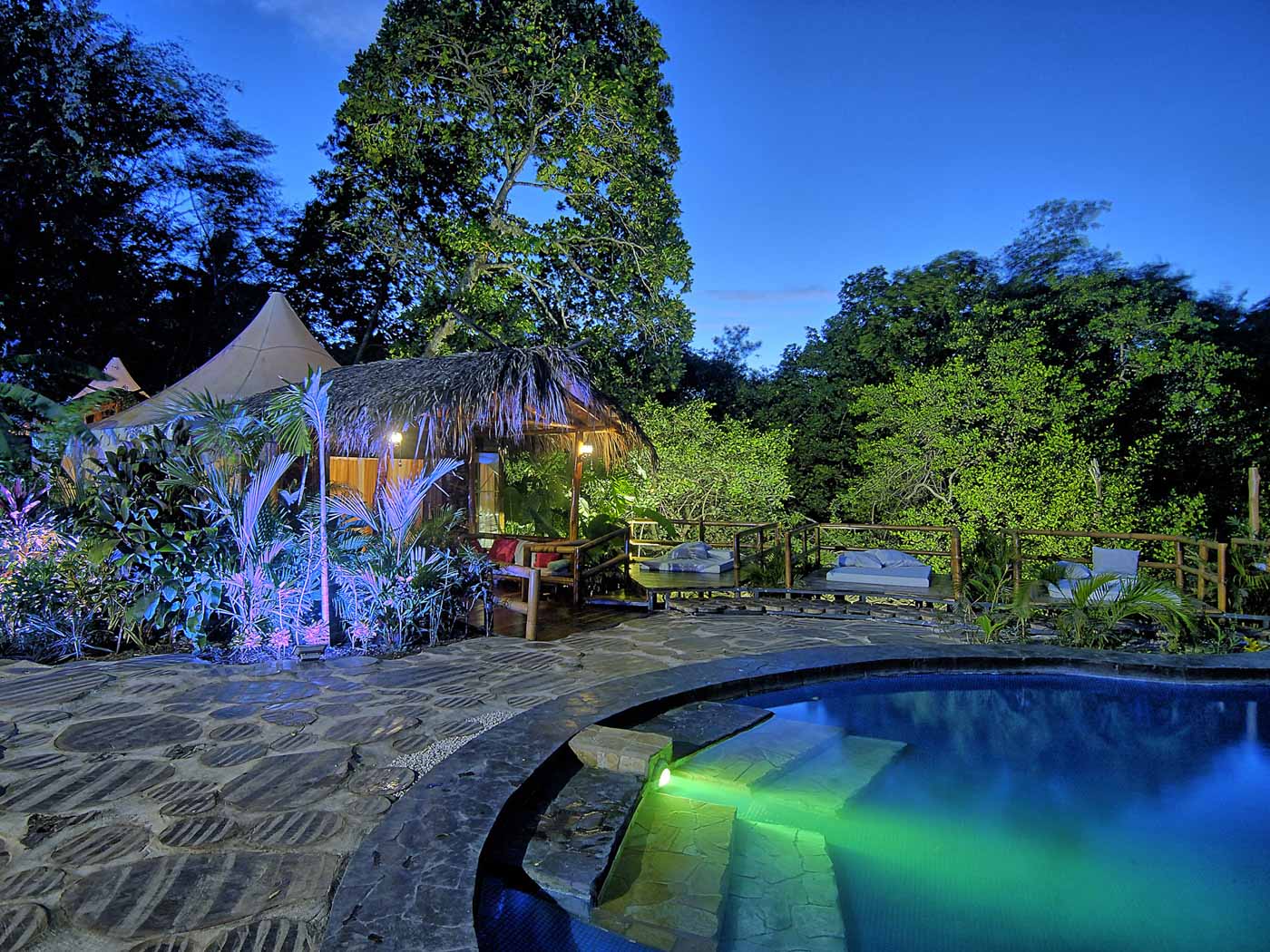 Accommodations
Artisan Bungalows

$350.00/ night
Request Availability
Something went wrong
Insider Tips
Take a dip in the pool after a long day out hiking or just relax under the sun.