Glamping.com's List of Top Manufacturers
WRITTEN BY: MEYLING MARTINEZ
It is time we delve deeper into one of the most asked questions on our website. Many times we get asked about whom we have purchased our accommodations from or who built it. Glamping.com does not own nor manage any of the properties listed on our website and so we don't usually go to the lengths of collecting the list of manufacturers each property has used. We now answer your request by featuring these top manufacturers who are known for their quality product.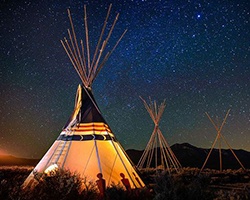 This USA based company has been at the top of their game since 1970, when they began making nomadic tipis. For those who love art, you can go totally custom or choose from a variety of artistic touches that add that extra "wow" effect to your new accommodation. Talented artists hand paint the tipis with traditional designs to help preserve the beauty and history behind the native traditional fresco art form. They even have tutorial videos of how to set up your tipi in one day.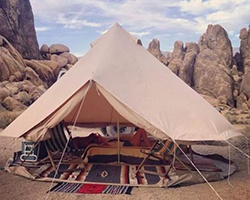 Canvas Camp has made our list for apparent reasons. They have a variety of tents, though their bell tents are incredibly stunning on any landscape as well as durable in all seasons. Some of these quality waterproof canvas tents have zippered floors that keep your tent dry through heavy rain and snow. Zip open the floor during warmer temperatures, the bottom part of the tent rolls up. If you want to keep the bugs away, the screened inner tent will help with that.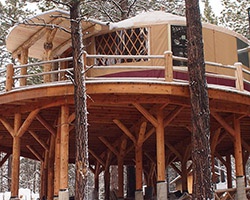 The "Dream Folly" yurt from Rainier Yurts was featured as the ultimate fantasy gift back in the 2011 Neiman Marcus Christmas catalog. The yurts are engineered to withstand harsh weather conditions and can be large enough to fit a kitchen, bathroom, living room and bedroom. With rates starting at $4,500 for the smaller, yet not so small yurts, this accommodation type may be your ideal choice for a more permanent unit.    
Pete Nelson from Treehouse Masters as seen on Animal Planet is truly the master of stunning treehouse creations. His talent has been shown through his designs of  fairytale-like backyard staycations to a variety of treehouses for companies such as The Mohicans in Ohio. These treehouses cost as much or more than a medium to large sized home in some states, though we encourage everyone to DREAM BIG!