Glamping for the Holidays
Written By: Alexandria Autrey
With the holidays coming up, take a vacation to unwind from all the stress of things. These three glamping destinations are hosting events for Thanksgiving, Christmas and New Year's Eve. Each one is very different from the other and have an assortment of fun on site activities to make your holiday's both easy and unforgettable. Take a trip to Samasati Nature Retreat to have a Thanksgiving dinner in paradise where your views of the rainforest and sea are unparalleled. Then escape from the worries of the world and enjoy Newfoundland traditions at the blissful Fogo Island Inn for an extraordinary and relaxing Christmas. Or, enjoy a winter under the starry skies of Montana accompanied by great service and fireworks on New Year's Eve. If this interest you, check out these cozy glamping destinations to make the most of your holiday.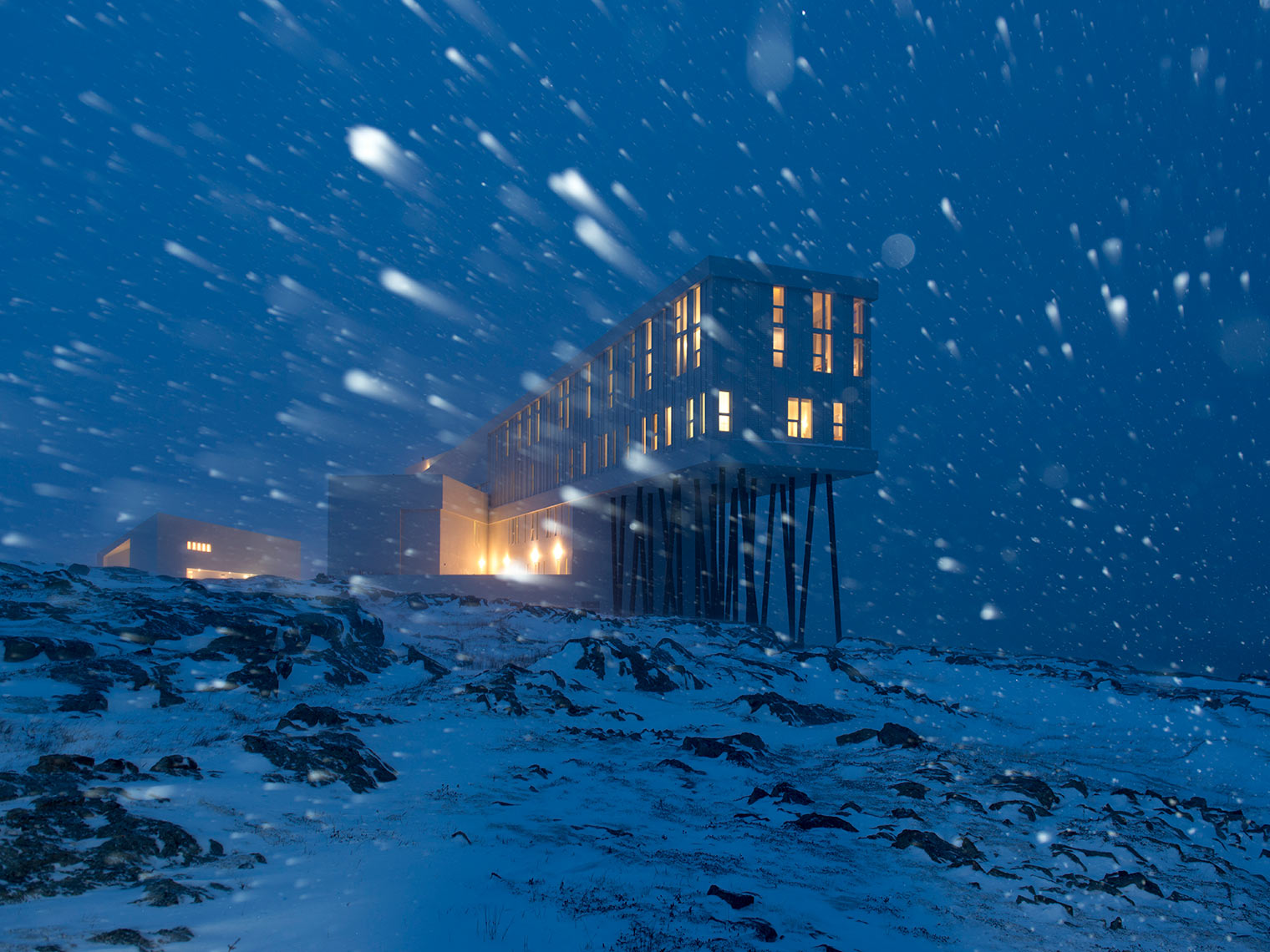 Fogo Island Inn will be hosting two separate onsite events this holiday season. The first event, "A Merry Little Outport Christmas," is a different kind of Christmas celebration. Join the other guests over six days for Newfoundland traditions like special Tibb's Eve libations, centuries-old mummering, Christmas crafting, caroling, caribou watching, gingerbread houses, Christmas baking and tree decorating accompanied with lazy hours of film watching in the cinema. Tuck yourself away at this quaint island for an unforgettable holiday. In addition to the Christmas Festivities, they will also be hosting a New Years Eve event. As it is a half an hour ahead of North America, you can be one of the first people to ring in the New Year in style. The night will include, poetry, song, music, fine food and exquisite wins poured by the internationally celebrated guest winemaker Norman Hardie.
The Resort at Paws Up will be hosting a lot of on site activities this holiday season. Their first set of events will be held this Christmas. You can experience a Montana December for the ultimate Christmas vacation. You can enjoy activities such as cross-country skiing to snowmobiling excursions, or even your own personal Santa, a Christmas Eve party for the kids, a sleigh ride through the forest and ice skating on the breathtaking outdoor rink. The resort will plan the activities, cook the turkey and even decorate your tree all you have to do is enjoy a winter wonderland in the picturesque valleys on Montana. Not only do they have an amazing Christmas getaway, they will also be hosting a New Years Eve weekend. Your festivities will begin with an elegant five-course dinner, celebrations and the events will not end until you are served a lavish breakfast buffet the next morning. You can also enjoy games, prizes, live music, a bonfire and even a firework display to ring in the new year.
It is possible to bring the harmony of the holidays where ever you may be. However, at Samasati Retreat they want to add a special touch for those seeking a mix of holiday cheer and paradise. Celebrate Thanksgiving, Christmas and New Year's at this glamping resort for the perfect holiday getaway. During the holiday season, sit back and relax as the resort will cook all your holiday dinners and set up plenty of activities to enjoy paradise as it should be. You can enjoy Thanksgiving dinner, Christmas Eve decorating, dinner followed by a celebration, Santa Scavenger Hunt, Full Moon Fire Pit Ceremony with guest artist, Samasati Nature Trek with Scott McKenzie, volunteer Playdate at Peace Through Yoga Foundation, rainforest decorations, dinner prep, New Year's Eve dinner accompanied with live music celebration, New Year Ceremony with guest artist, New Year day brunch and souvenir craft workshop. Take this vacation time to rest, relax or go on an adventure and explore this tropical paradise by the sea.