Ypora
buenos aires, argentina
bedding

electricity - solar/wind powered

running water - collected rainwater
boating

fishing

hiking

live performance / entertainment

swimming

wildlife observing
Private chef
All-inclusive
Check-in

11:00 AM

Check-out

2:00 PM

Taxes

Included

Gift Cards

Yes, please inquire

Included in the Rates

all meals (breakfast, lunch, afternoon snack, and dinner), towels, bed linen, canoeing, and boat journeys.

Gratuity

Not expected, but appreciated.

Other Fees

None

Parking

Included on-site

Minimum Age for Children

10

Additional Guests

Special prices and discounts available for additional guests up to maximum occupancy.

Suggested items to bring with you

personal hygiene items, towels to use in the river, raincoat, sunscreen, hat, sunglasses, insect repellent, and soled shoes

Reservation and Cancellation Policy

30% of the deposit will be collected to confirm the reservation. If cancellations are made within one week of arrival, guests will be given a 50% refund on their deposit.

Smoking: not allowed inside the units

Pet Policy

Pets are not allowed at this property.
How Do I Get There?
Yporá is geographically located on the second section of islands in the San Fernando Delta (Buenos Aires), inside the Delta del Paraná Biosphere Reserve (Reserva de Biosfera Delta del Paraná), declared as such by UNESCO in 2000. This place safeguards the environment for populations of wild marsh deer, capybara, river otter, Geoffroy's cat, nutria and dusky-legged guan.
As a reference, the island is placed 2,000 metres away from the Rio de la Plata (River Plate) and 15 km from Martín García Island (Isla Martín García).
The boats (Linea Interisleña) weigh anchors at the Tigre Fluvial Station (Estación Fluvial de Tigre) and after a 2-1/2 hour trip, they arrive at a nearby dock where guests will be picked up on our private boats.
On a private boat, it will take you one hour to arrive, leaving from Tigre (ask for way point coordinates).
View Google Maps
Yporá seeks new, more sustainable ways of living and is eager to share them with guests. Implemented techniques include use of natural construction and alternative energy sources (solar and wind), as well as the collection of rainwater for washing. Yporá is geographically located inside the Delta del Paraná Biosphere Reserve, which was declared as such by UNESCO in 2000. The property is located away from the bustle of traffic and residential and commercial areas. We invite all guests to join in on this natural experience!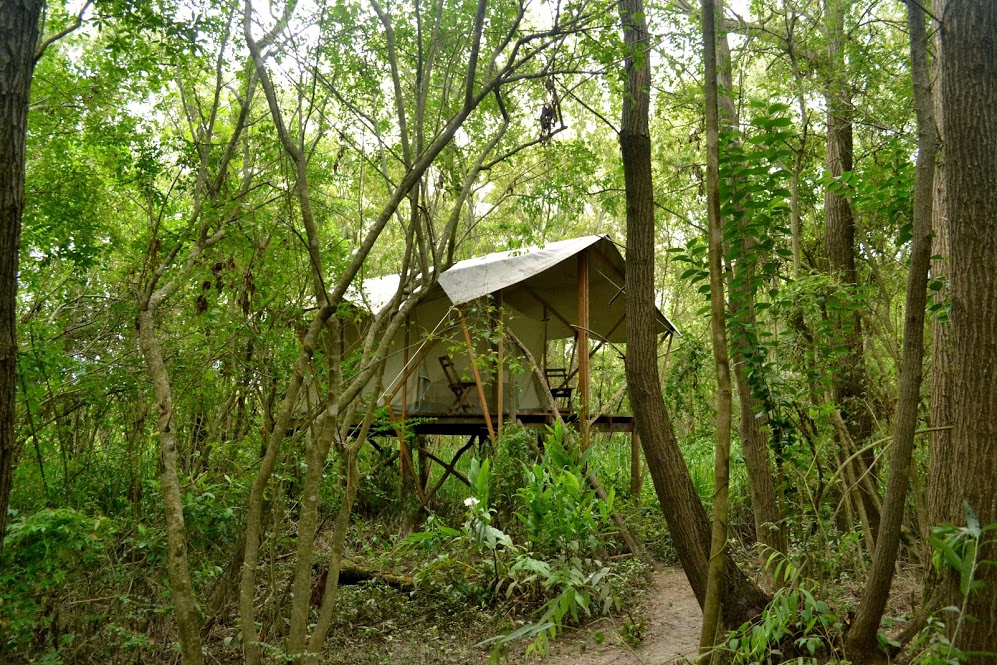 Accommodations
Safari Tents

From $95/night

Request Availability
Something went wrong