Under Canvas Yellowstone
montana, united states
animal interaction

biking

campfire activities

fishing

guided tours

hiking

horseback riding

kayaking

nature walks

off-road vehicle tours

park

rafting

zip-lining
On-site restaurant

No food allowed in camp or in the tents


Picnic lunches: Includes bottled water, sandwiches, chips, fruit and something sweet! Simply order online when you book or order the day before by 4 PM.
Taxes

Occupancy Tax (7%), Resort Fee (7%). Not included in rates.

Reservation and Cancellation Policy

All canceled reservations received 30 or more days prior to arrival are subject to a 10% cancellation penalty.

Reservations canceled within 30 days of the scheduled arrival date are subject to a 95% penalty of the entire stay and will receive a 5% refund.

The full balance of your reservation is due at the time of booking.
How Do I Get There?
Nearest airport: Idaho Falls
Yellowstone Under Canvas® is located on the Bar N Ranch.
Directions from West Yellowstone
As you enter West Yellowstone, you will come to a signal light. This light indicates the intersection of Hwy 191 and Hwy 20. You will turn RIGHT at the signal and drive towards Ashton. About five miles from town, you will cross the South Fork of the Madison River. Continue driving and after roughly one mile, you should see on your right the log arch for the Bar N Ranch. Turn RIGHT and follow the driveway for about one mile, and you will see the Lodge. If you miss the turn for Bar N Ranch on Hwy 20, you will come to the KOA Campgrounds. You have gone too far; just turn around and come back to the first driveway that will then be on your left.
Driving Directions From Idaho Falls, Idaho
As you get into Idaho Falls from the South (Interstate 15), you will come to an exit for Hwy 20. Take that exit towards West Yellowstone. You will eventually pass many towns and go through Ashton and on up the hill; you will come to Island Park (holds the record for having the longest main street in the world, 37 miles). Keep going on Hwy 20. You will go over Targhee Pass, then after about three miles, you will come to a KOA campgrounds. You need to slow down because we are the very next driveway to the left. There is a Bar N sign on the highway. Turn LEFT and follow the driveway for about one mile and you will see the Lodge.
View Google Maps
Just 10 minutes from Yellowstone National Park entrance, Under Canvas Yellowstone is a luxury camp that boasts fantastic views, a quiet, secluded location, an on-site restaurant, a host of activities, and of course, Yellowstone right on your doorstep. This isn't camping as you used to know it.
Imagine waking up to the sights, sounds and smells of nature in one of the most spectacular places on earth while relaxing in your luxurious safari tent (which is comfortable enough to rival a hotel room, yet with the great outdoors of Yellowstone all around you). Once you've spent your day experiencing the beauty and adventure of Yellowstone, you can return to our Luxury Tent Camp and unwind in style.
Stay in a stunning Safari Tent while enjoying amazing views, comfortable luxury bathrooms and gourmet meals in their on-site restaurant—all just minutes from the park.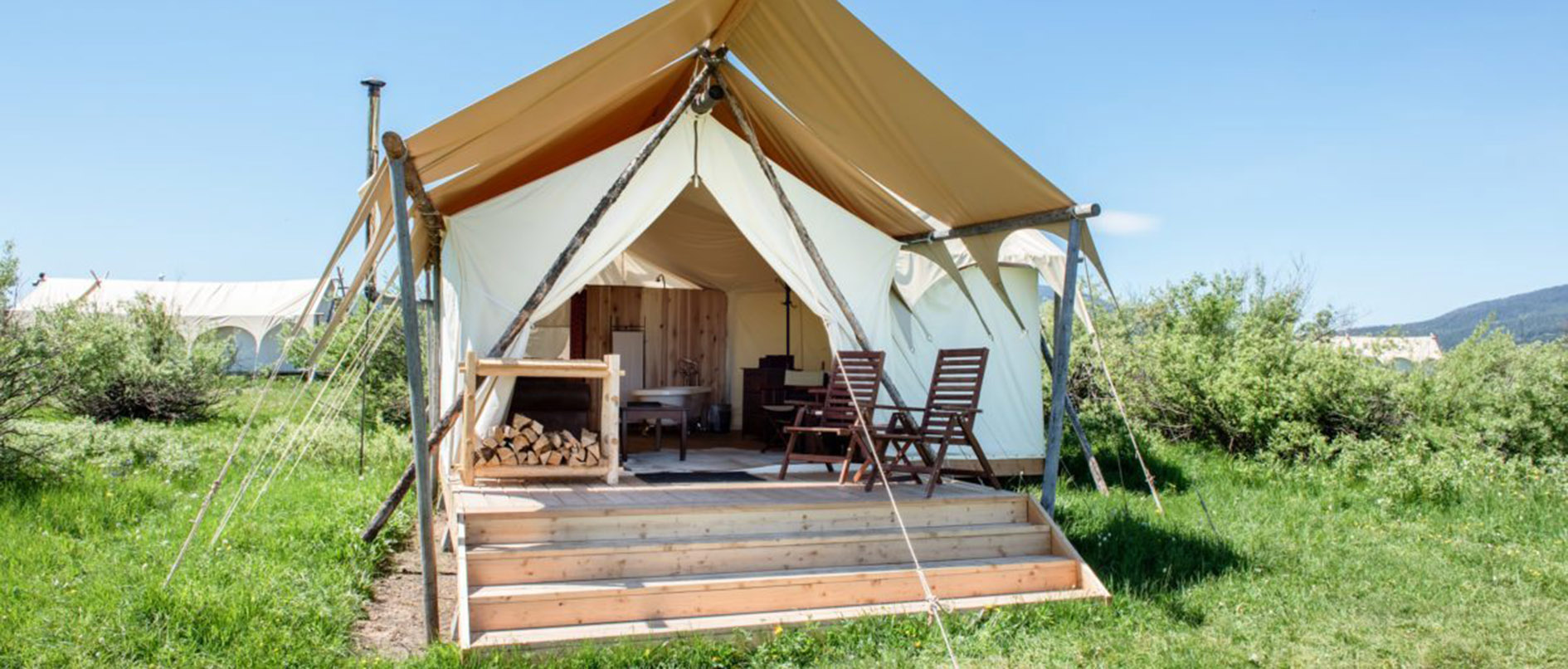 Insider Tips
Pets are welcome to stay with you at Under Canvas Yellowstone for a fee of $25 per stay.

The bathrooms are in a separate tent next to your sleeping accomodations. They are luxury bathrooms with hot running water, showers, flushing toilets, sinks and spa products. Safari and tipi tents share bathrooms; the others have their own.