Glamping Airstream Andalucia
malaga, spain
air conditioning

community pool

heater

shower

wi-fi
A 20-minute walk down the mountain track will lead to the nearby village of Alozaina—a typically Spanish pueblo blanco, which has retained much of its rustic charm. Life is slow here and not to be rushed! There are several tapas bars, cafés and a couple of decent restaurants, as well as shops and even a small supermarket.
Reservation and Cancellation Policy

Information available upon request
How Do I Get There?
Call your contact at the property as soon as you arrive.
Below are directions to get to Alozaina from Malaga Airport, via the villages of Cartama, Zalea and Alozaina.
- LEAVE AIRPORT AND FOLLOW SIGNS TO "MALAGA" ON E15/A7.
- AT NEXT MAIN JUNCTION, FOLLOW BLUE OVERHEAD SIGNS TO "MOTRIL, ANTEQUERA, SEVILLA, GRANADA".
- AT EXIT NUMBER 236, FOLLOW BLUE SIGNS TO A357 "CARTAMA, PARQUE TECHNOLÓGICO" AND MAUVE SIGN TO "UNIVERSIDAD".
- ONCE ON THE A357, FOLLOW THIS ROAD FOR 30 KM. YOU WILL NOTE SMALL GREEN SIGNS COUNTING EVERY KILOMETER ON ALL SPANISH ROADS.
- JUST AFTER KM 40, TURN LEFT ON TO THE A354 DIRECTION "ZALEA, CASARABONELA, ALOZAINA". FOLLOW SIGNS TO ALOZAINA.
- AS YOU APPROACH ALOZAINA, THERE IS A WHITE ENTRANCE ARCH WITH ALOZAINA WRITTEN ON IT AND IMMEDIATELY OPPOSITE IS A PULL OFF AREA WHERE YOU WILL BE MET BY STAFF WHO WILL GUIDE YOU UP THE MOUNTAIN.
View Google Maps
Situated three kilometers outside of a small Spanish white pueblo named Alozaina, just 2,000 souls, is a taste of real Spain, quiet and honest with a living location on the mountain that is idyllic, peaceful, restful and far away from the humdrum world of distractions and confusion.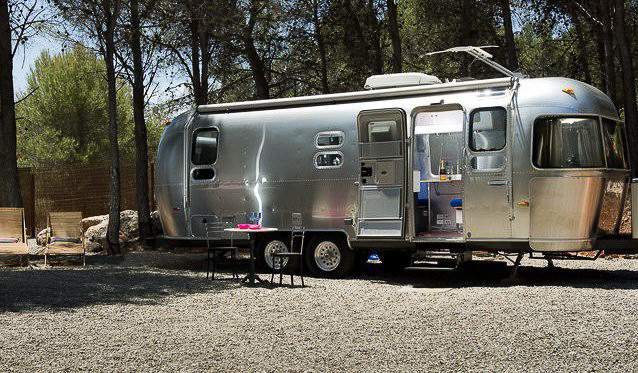 Accommodations
Airstream

From $144/ night

Request Availability
Something went wrong
Inside Scoop
Set surrounded by the beauty of nature