Bukubaki Eco Surf Resort
estremadura, portugal
bar / lounge

bedding

community pool

laundry

restaurant

robes

sauna

shower

towels

wi-fi
biking

guided tours

massage

skate boarding

surfing

yoga
On-site restaurant
On-site chef
Breakfast included
Taxes

6% VAT & $12 city tax, included

Gift Cards

Not available at this property.

Included in the Rates

Breakfast

Gratuity

Not expected, but appreciated

Other Fees

None

Parking

Included on-site

Cellular Signal

Strong

Wi-Fi Signal

Strong

Minimum Age for Children

None

Additional Guests

Between $19 and $59 depending on the type of accommodation and season.

Suggested items to bring with you

Personal Items

Check-in

3 p.m.

Check-out

noon

Reservation and Cancellation Policy

Cancellation free until 30 days prior to the arrival.

At the reservation a 30% deposit is requested, refundable if cancellation comes between the free period.

For cancellations between the non-free period (between 30 days and the arrival time), the deposit won't be refundable.

In case of No-Show 100% of the reservation will be charged.

Pet Policy

Pets are not allowed at this property.
How Do I Get There?
Fly to Libson or Porto: The airports are connected with almost all airline options.
By car:
Peniche is situated about 99 km from Lisbon. From the airport, take the A8 highway Norte, and then choose the exit 14 to the IP6 to Peniche. The journey takes about an hour.
Porto is about 260 km from Peniche, about 3 hours from the airport, using the A8 highway for most of the distance, and then choose the exit 14 to the IP6 to Peniche
By bus:
You can get to Peniche in an hour and a half by bus from Lisbon, with two different companies. Both terminals are located 10 minutes by taxi from the airport. From Peniche bus terminal, you can reach Bukubaki in 10 minutes by car/taxi.
Direct buses from Porto take about 4.5 hours, although most of them drive via Coimbra, so the total journey can take 5/6 hours. From Peniche bus terminal, you can reach Bukubaki in 10 minutes by car/taxi.
CAUTION:
Peniche does not have a train station. The station called Peniche is 30 kilometres inland.
Is it possible to get to Caldas da Rainha and Torres Vedras by train, and then reach Peniche by local bus, but this is not the best option.
View Google Maps
Just one hour from Lisbon, the property is located in an enchanted forest of pine trees and eucalyptus. The treehouses and tents boast just enough light to create a magical atmosphere without hiding the stars in the beautiful night sky. The sound of the wind, the roar of the ocean and the scent of pine resin mixed with the salty tang of the sea air encapsulates the camp. There's a permaculture garden which produces most of the ingredients for the on-site restaurant, a mixture of Italian and Portuguese cuisine: Atlantic Mediterranean.
From surfing, skateboarding, mountain biking, to hiking in breathtaking Peniche, famous for its winds and waves, along Almagreira, which stands out for its unique landscape with cliffs that extend across the beach, Bukubaki excitedly welcomes its guests to its eco-friendly property built using natural materials and electricity generated from renewable energy sources.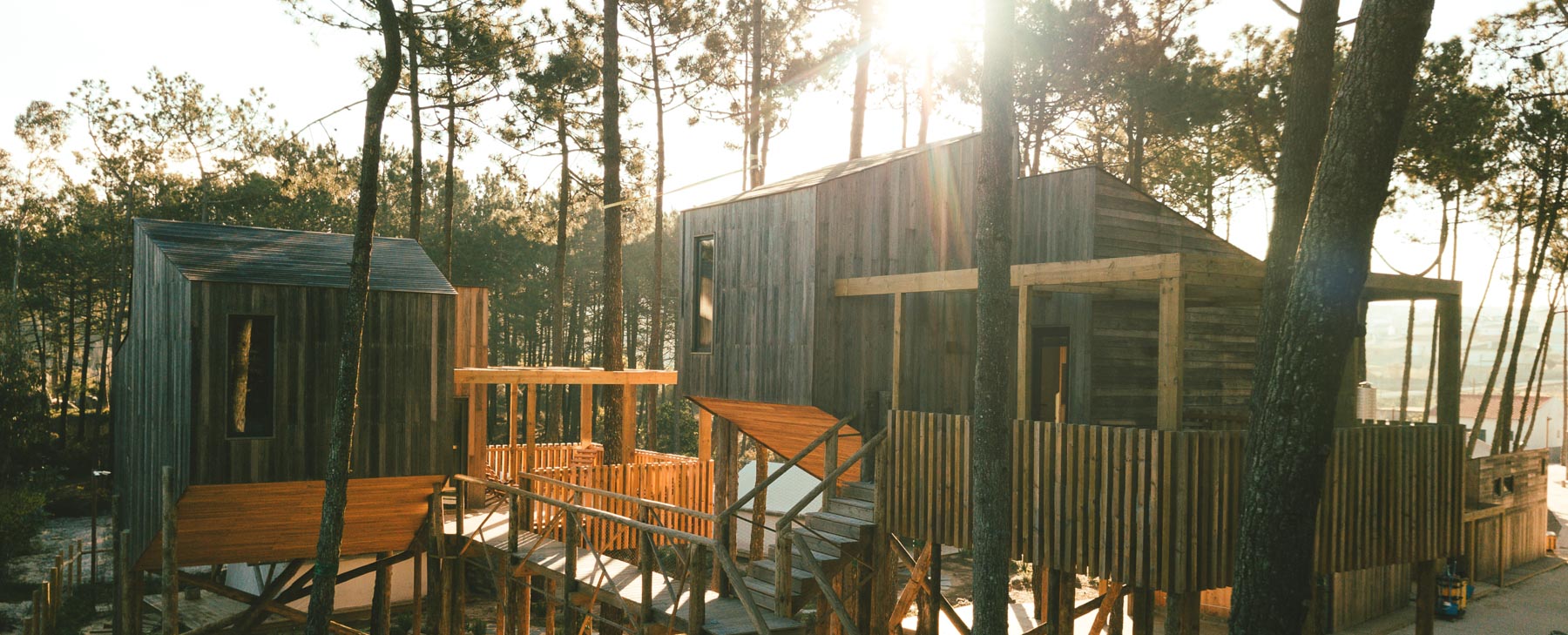 Accommodations
Canadian Room

$77.00/night

Tiny Treehouse

$150.00/night
Request Availability
Something went wrong
Insider Tips
Learn to surf the waves like a pro!