Tiger Tops Tharu Lodge
gandaki, nepal
community pool

eco-fan

fire extinguisher

fireplace

hammock

housekeeping

laundry

mosquito nets

private pool

towels

umbrellas

wi-fi
all-inclusive

bird watching

canoeing

excursions

game drives

safari tours

social and cultural visits

wildlife observing
Check-in

1:00 PM

Check-out

11:00 AM

Taxes

10% service charge and 13% VAT, not included.

Gift Cards

Not available at this property.

Included in the Rates

Accommodation, all meals, and all elephant and safari activities.

Gratuity

Not included, but appreciated.

Other Fees

$20 National Park fee, $20/person one way airport transfers.

Parking

Included on-site.

Cellular Signal

Limited

Wi-Fi Signal

Strong, in dining hall.

Minimum Age for Children

None

Additional Guests

Rates based on per person up to maximum occupancy.

Suggested items to bring with you

Personal items, good walking shoes, camera binoculars, sun screen, sun hat, sunglasses, and mosquito repellent.

Reservation and Cancellation Policy

All canceled reservations received 61 or more days prior to arrival are subject to a 10% cancellation penalty.

Reservations canceled within 60 days of the scheduled arrival date are subject to a 50% penalty.

Reservations canceled within 30 days of the scheduled arrival date are subject to a 75% penalty.

Reservations canceled within 15 days of the scheduled arrival date are subject to a 100% penalty and are responsible for the entire stay and will forfeit all payments.

Pet Policy

Pets are not allowed at this property.
How Do I Get There?
By flight: It's a twenty-minute flight from Kathmandu to the Bharatpur airport. Here you will meet with the staff from the Lodge, who will drive you for an hour and a half to the Western end of Chitwan National Park where Tharu Lodge/Elephant Camp is situated.
By road: Tiger Tops Tharu Lodge/Elephant Camp can be reached by road in approximately 6 hours (it may take longer depending on traffic) from Kathmandu and Pokhara. There are tourist busses departing every morning from both Kathmandu and Pokhara, and they will stop in Bharatpur on your request (make sure that you don't go all the way to Sauraha). The staff will pick you up from Bharatpur, from where it's a one-hour drive to the camp. You can also hire a private vehicle to take you all the way to the lodge/camp.
View Google Maps
Tharu Lodge offers guests the perfect blend of a quiet but captivating wilderness retreat, fused with local cultural encounters. A short bullock-cart ride from the Narayani River, the natural boundary between Chitwan National Park and the surrounding townships, takes you to doors of Tharu Lodge. Emulating the longhouse style of Tharu architecture and built from local materials, Tharu Lodge offers a unique and comfortable insight into Nepalese village life.
Adjacent to Chitwan National Park, Tiger Tops Tharu Lodge offers guests the opportunity to escape the rat-race and experience Nepali village life, the jungle, and the twelve resident elephants. Tharu Lodge is situated on high ground overlooking the lush forests and small villages surrounding the park. It was built in 1980 and has been operating ever since. Styled after the traditional longhouses of the local Tharu people, the lodge is made exclusively from local materials.
The product is the jungle and the beautiful herd of elephants. Tiger Tops wants you to be in the jungle and with the elephants as much as possible during the time you spend at the property. The naturalists, their knowledge and expertise, is what Tiger Tops is most proud of and their skills are widely respected. The lodges are simple yet comfortable, in keeping with the local environment, to make you feel as close to the local culture as possible.
Nestled beside lush forest and overlooking idyllic Terai landscapes, Tharu Lodge is the perfect place to unwind and let Tiger Tops take care of you. Dine al fresco under the shade of a mango tree, take a refreshing dip in Tharu's garden side pool, play a spot of tennis, or simply sway gently in a hammock in the afternoon breeze. At night, enjoy nothing but the sounds of the forest that is just metres from your window.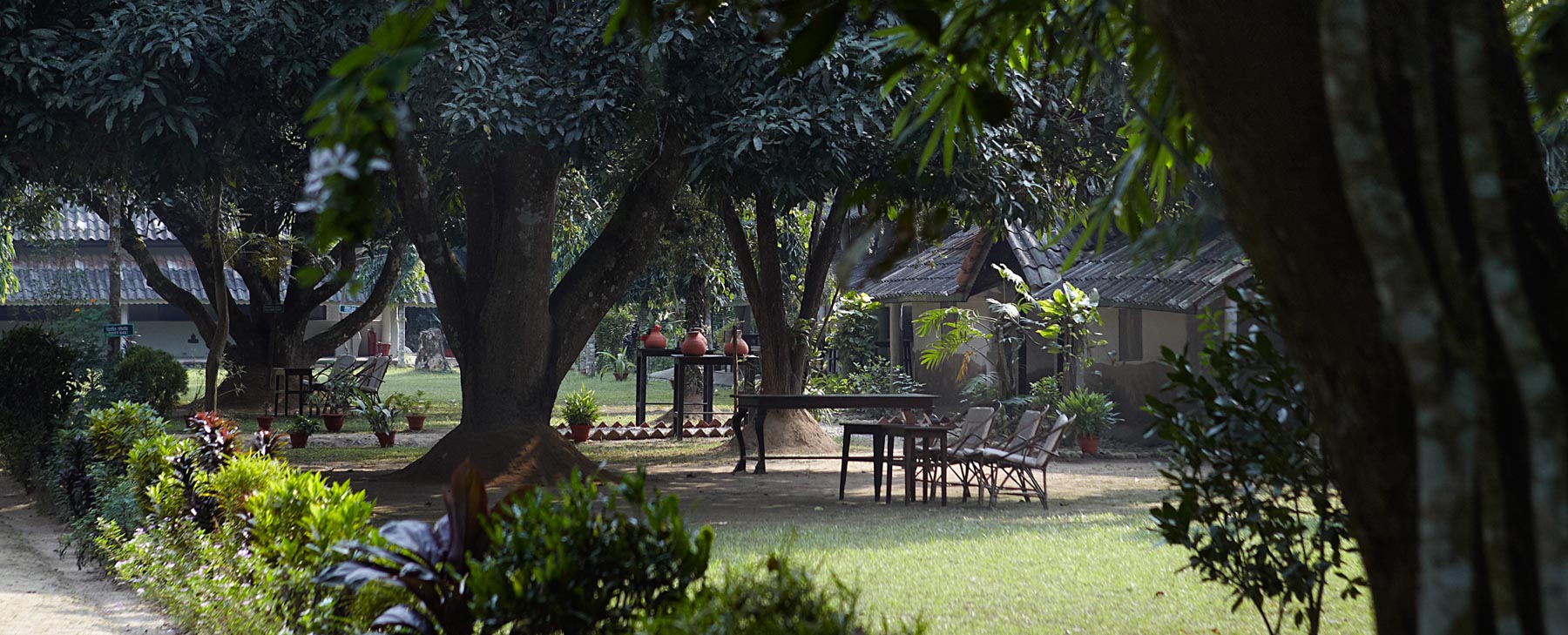 Accommodations
Safari tent

From $199/night

Traditional Room

From $249/night